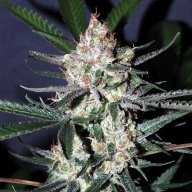 American Beauty
THC Content
American Beauty
CBD Content
American Beauty
Hybrid content
Usage & Effects
American Beauty
Time of use
AFTERNOON
American Beauty
Typical Effects
FOCUSED
RELAXED
SLEEPY
American Beauty
Common Usage
DEPRESSED
A LOSS OF APPETITE
PAIN
American Beauty is a 50/50 hybrid cannabis strain that offers the best of both worlds. You get indica and sativa with American Beauty. THC comes in at a strong 15 to 24% on average, giving the American Beauty cannabis strain all the potent punch it needs to get the job done. The buds are bright green with lots of red and orange hairs and a blanket of trichomes surrounding them. The flavor profile has hints of mango and pineapple with a very earthy finish. Consumers report this strain helping them increase their appetite, as well as fight off the symptoms of depression, stress, PTSD, anxiety, migraines, and chronic pain. The buzz is described as a very relaxed and focused one that tends to leave you feeling a bit sleepy.
FAQ
How much THC is in American Beauty strain?
Answer: This strain contains about 24% THC on average.