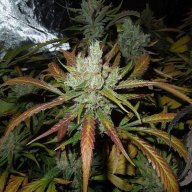 Amnesia Haze
Sativa content
Usage & Effects
Amnesia Haze
Time of use
AFTERNOON
Amnesia Haze
Typical Effects
FOCUSED
PARANOIA
CREATIVE
Amnesia Haze
Common Usage
DEPRESSED
A LOSS OF APPETITE
ANXIETY
Amnesia Haze is it 80% sativa dominant variety of cannabis that boasts an impressive THC level of 25% or more. Amnesia Haze came to be by crossing some Afghani, some Thai, and Hawaiian. The buds have a beautiful light green tone to them, and oftentimes are blanketed with streaks of purple and blue hues. Amnesia Haze took first place in the 2004 Cannabis Cup for Best Sativa. The buzz is described as a very focused and creative one with a touch of paranoia. Medically many say that the strain is great for depression, stress, loss of appetite, chronic pain, and more.
FAQ
How much THC is in Amnesia Haze strain?
Answer: This strain contains about 25% THC on average.