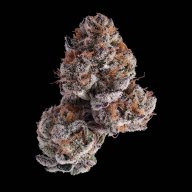 Animal Cookies
THC Content
Animal Cookies
CBD Content
Animal Cookies
Indica content
Usage & Effects
Animal Cookies
Time of use
MORNING
Animal Cookies
Typical Effects
FOCUSED
RELAXED
COTTON MOUTH
Animal Cookies
Common Usage
DEPRESSED
A LOSS OF APPETITE
ANXIETY
Animal Cookies is a 75% Indica dominant cannabis strain that is highly sought after by consumers globally. Girl Scout Cookies and Fire OG were said to be some of the genetics used in the creation of Animal Cookies. Animal Cookies has an impressive THC level averaging 18 to 30%. The buds have a yellowish-green color to them and an abundance of red hairs. They are often covered in an inch-thick blanket of trichomes. The flavor profile is described as very earthy and skunky, much like the smell of the buds themselves. Medically the strain helps fight off the symptoms of anxiety, stress, depression, pain, loss of appetite, insomnia, and more according to many reports. The buzz is described as a very relaxed and focused one that will leave you with a case of cotton face more often than not.
FAQ
How much THC is in Animal Cookies strain?
Answer: This strain contains about 27% THC on average.