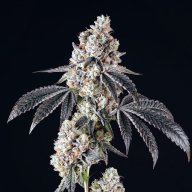 Animal Mints
Hybrid content
Usage & Effects
Animal Mints
Time of use
EVENING
Animal Mints
Typical Effects
RELAXED
SOCIAL
HAPPY
Animal Mints
Common Usage
DEPRESSED
A LOSS OF APPETITE
ANXIETY
Animal Mint is a 50/50 hybrid offering the best of both worlds, having characteristics of both indica and sativa. This unique strain of cannabis is highly sought-after by cannabis connoisseurs globally for its impressive THC profile. The average THC percentage comes in between 28 and 32%. Thin Mint Girl Scout Cookies and Fire OG were some of the genetics used to create Animal Mint. Users report a very relaxed and social buzz that leaves them feeling happy. It's also said this is a great strain to melt away the symptoms of depression, anxiety, stress, loss of appetite, and more. The flavor profile on this strain is unique, having hints of mint, pine, and cookie dough.
FAQ
How much THC is in Animal Mints strain?
Answer: This strain contains about 32% THC on average.