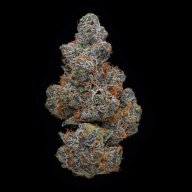 Apple Fritter
Hybrid content
Usage & Effects
Apple Fritter
Time of use
AFTERNOON
Apple Fritter
Typical Effects
RELAXED
SLEEPY
HAPPY
Apple Fritter
Common Usage
DEPRESSED
ANXIETY
INSOMNIA
Apple Fritter is a 50/50 hybrid variety of cannabis boasts equal amounts of Indica and Sativa. THC comes in with this strain at a heavy-hitting 32%! This beautiful strain was created crossing Animal Cookies and Sour Apple. The result produces very sticky, brilliant green buds with dense trichomes and loads of orange hairs. The taste is described as very sweet and skunky. Many consumers report this being a great strain to help fight the symptoms of insomnia, anxiety, depression, stress, chronic pain, and more. The buzz is said to be a very happy and relaxed one that is known to leave people feeling sleepy.
FAQ
How much THC is in Apple Fritter strain?
Answer: This strain contains about 32% THC on average.