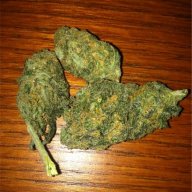 Arabian Gold
Hybrid content
Usage & Effects
Arabian Gold
Time of use
AFTERNOON
Arabian Gold
Typical Effects
FOCUSED
SLEEPY
CREATIVE
Arabian Gold
Common Usage
DEPRESSED
A LOSS OF APPETITE
ANXIETY
Arabian Gold is a 50/50 hybrid variety of cannabis offering consumers the best of both worlds. Arabian Gold has an equal balance of both Indica and Sativa in it. It is said the lineage to this strain has a very cloudy past and uncertainty surrounding it. What is known is that Arabian Gold averages as high as 22% THC. The buds are a bright golden color with hints of green and a diamond-like blanket of frosty trichomes. The aroma is strong with an earthy hash-like smell. The taste is described to be very hash-like with hints of spice. Many people report the buzz as being a very creative and focused one that will often leave you feeling a little bit sleepy. It is said to be a great strain to help fight the symptoms of depression, stress, anxiety, chronic pain, and a loss of appetite.
FAQ
How much THC is in Arabian Gold strain?
Answer: This strain contains about 22% THC on average.