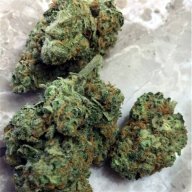 Usage & Effects
Area 51
Time of use
EVENING
Area 51
Typical Effects
FOCUSED
RELAXED
SOCIAL
Area 51
Common Usage
DEPRESSED
ANXIETY
PAIN
Area 51 is a 50/50 hybrid cannabis strain with an impressive THC level. You can expect THC percentages of 20 to 23% on average. Area 51 is a sought-after cannabis strain with secretive origins. The buds are so sticky they practically drip resin from every pore. They are olive green in color with electrified reddish-orange hairs in a frosty diamond-like coating of trichomes. The flavor is described as very citrus and floral, much like the aroma from these beautiful nugs. Consumers report this being a very relaxing buzz that leaves them feeling focused and social. They also say this is a great strain to battle of the symptoms of chronic pain, stress, depression, anxiety, and more.
FAQ
How much THC is in Area 51 strain?
Answer: This strain contains about 23% THC on average.