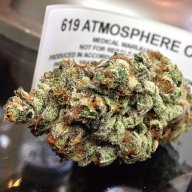 Usage & Effects
Atmosphere
Time of use
AFTERNOON
Atmosphere
Typical Effects
FOCUSED
RELAXED
CREATIVE
Atmosphere
Common Usage
DEPRESSED
MIGRAINES
PAIN
Atmosphere is a 50/50 hybrid cannabis strain with enough potent THC to have you floating around on cloud nine in the Atmosphere. This unique cannabis strain offers consumers a balance of equal amounts of Indica and Sativa. It's rumored Warhorse OG Kush and White Widow were the genetics behind creating the powerhouse known as Atmosphere. THC levels come in at an impressive 16 to 23% or more. The buds are small dense nuggets with a forest green tone wrapped in yellow and orange hairs. They are so sticky they practically ooze resin from their pores and are blanketed by a frosty coating of trichomes. The flavor is described as one of citrus and pine with an earthy skunky finish. The buzz is reported to be a very relaxing one that leaves most people feeling focused and creative. Many different consumers have reported this to be a great strain to help battle the symptoms of depression, stress, migraines, chronic pain, and more.
FAQ
How much THC is in Atmosphere strain?
Answer: This strain contains about 23% THC on average.