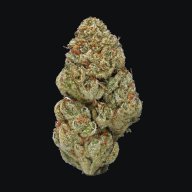 Atomic Goat
Hybrid content
Usage & Effects
Atomic Goat
Time of use
AFTERNOON
Atomic Goat
Typical Effects
FOCUSED
RELAXED
SOCIAL
Atomic Goat
Common Usage
DEPRESSED
MIGRAINES
PAIN
Atomic Goat is a 50/50 hybrid strain of cannabis. This particular strain offers consumers a beautiful balance of both Indica and Sativa. The extremely popular genetics of Golden Goat and Chernobyl were utilized in the creation of Atomic Goat. This strain boasts an impressive THC level that averages between 14 upwards of 21%. The buds are a lime green color with rusty colored, even brownish hairs surrounding them. When you gaze upon them, they sometimes appear to put off a yellowish glow from the big blanket of trichomes coating them. Many people find this to be a great strain to fight off the symptoms of migraine headaches, depression, chronic pain, stress, anxiety, and more. The buzz is described as being a very relaxing one that leaves most people feeling focused and social.
FAQ
How much THC is in Atomic Goat strain?
Answer: This strain contains about 21% THC on average.