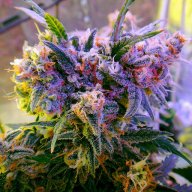 Aurora Indica
Indica content
Usage & Effects
Aurora Indica
Time of use
EVENING
Aurora Indica
Typical Effects
RELAXED
SLEEPY
CREATIVE
Aurora Indica
Common Usage
DEPRESSED
ANXIETY
ARTHRITIS
Aurora Indica is a heavy-hitting 90% Indica dominant cannabis strain. Aurora Indica boasts an impressive THC level starting out averaging 20%. This beautiful cannabis strain was created crossing Papaya and Bubblicious. The buds are sticky, practically dripping resin from every pore blanketed in a crushed diamond like covering of trichomes. They have an olive green color typically and are entwined with red and brown hairs. Many consumers report this being a great strain to fight off anxiety, stress, depression, arthritis, and more. The buzz is said to be a very relaxing and creative one that ultimately leaves most people feeling a little on the sleepy side. The 90% Indica heritage in this strain makes it an excellent strain for before bed.
FAQ
How much THC is in Aurora Indica strain?
Answer: This strain contains about 20% THC on average.