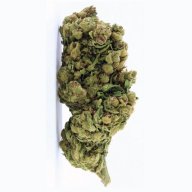 Usage & Effects
Avi
Time of use
EVENING
Avi
Typical Effects
RELAXED
SOCIAL
SEDATED
Avi
Common Usage
DEPRESSED
ANXIETY
MIGRAINES
Avi is a 50/50 hybrid cannabis strain that boasts equal amounts of Indica and Sativa. Unlike most cannabis strains, this particular one has more CBD than THC. THC levels come in low, averaging around 5%. However, this strain makes up for it producing an average of 10% CBD or better. The buds tend to be dark green with brownish orange hairs and a blanket of white sparkly trichomes. The flavor is described as woody and a little spicy. Many people report the strain being great at battling the symptoms of anxiety, depression, stress, migraine headaches, insomnia, and more. The buzz is said to be a very relaxing one leaving many people feeling very social. A lot of consumers also report a very sedated feeling after consuming Avi.
FAQ
How much THC is in Avi strain?
Answer: This strain contains about 10% THC on average.