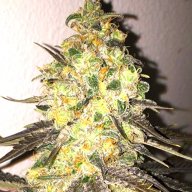 Usage & Effects
B4
Time of use
AFTERNOON
B4
Typical Effects
FOCUSED
RELAXED
SOCIAL
B4
Common Usage
DEPRESSED
MIGRAINES
PAIN
B4 is a 50/50 hybrid variety of cannabis that you might not have ever seen before. This exquisite cannabis strain offers consumers the best of both worlds with equal amounts of Indica and Sativa. THC levels come in at a heavy-hitting 26% or higher with this fire. B4 has legendary genetics such as Blue Dream, Orange Creamsicle, and Chemdawg #4 in its lineage. The buds are bright green and have a robust and pleasing aroma of floral and diesel. The flavor is described as peppery and spicy with a skunky finish. Many consumers report this to be a great strain to fight off the symptoms of chronic pain, stress, depression, anxiety, PTSD, ADHD, loss of appetite, and more. The buzz leaves many people feeling focused and relaxed as well as social.
FAQ
How much THC is in B4 strain?
Answer: This strain contains about 26% THC on average.