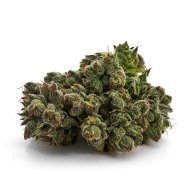 Usage & Effects
Balmoral
Time of use
AFTERNOON
Balmoral
Typical Effects
FOCUSED
RELAXED
SLEEPY
Balmoral
Common Usage
MIGRAINES
Balmoral is a 50/50 cannabis strain that has equal amounts of Indica and Sativa. This strain was created as a phenotype from the ever so popular UK Cheese. The THC percentage in this strain is impressive, averaging 21% or more. The buds are lime green with a bright white glow from the frosty coating of trichomes. They are known to have brilliant orange hairs scattered throughout them. The smell is earthy and skunky with hints of cheese. The flavor is peppery with hints of grapes and skunk. Many consumers report this being an excellent strain to fight off the symptoms of stress, depression, anxiety, chronic pain, arthritis, menstrual cramps, PTSD, ADHD, insomnia, loss of appetite, and more. The buzz is described as a very focused and relaxing one that is known to cause a case of couch-lock.
FAQ
How much THC is in Balmoral strain?
Answer: This strain contains about 21% THC on average.