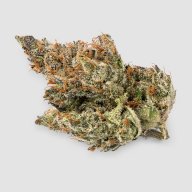 Banana Bread
Hybrid content
Usage & Effects
Banana Bread
Time of use
EVENING
Banana Bread
Typical Effects
RELAXED
SOCIAL
HAPPY
Banana Bread
Common Usage
DEPRESSED
ANXIETY
INSOMNIA
Banana Bread is a 50-50 hybrid variety of cannabis with equal amounts of Indica and Sativa. Banana Bread was created utilizing genetics from a Vietnamese Black and Purple Kush. The end result produces a relaxing buzz. THC levels are a little on the secretive side, but many people would say they're medium to high averaging between 14 to 20%. That would be why this strain is excellent at helping fight the symptoms of insomnia, depression, anxiety, stress, and loss of appetite. The buzz is a very relaxing one that leaves people feeling social and happy. The amount of talking you might do after smoking a little bit of this strain is known to cause cottonmouth, so you might want to have water on hand.
FAQ
How much THC is in Banana Bread strain?
Answer: This strain contains about 0% THC on average.