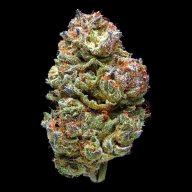 Usage & Effects
Banana OG
Time of use
EVENING
Banana OG
Typical Effects
RELAXED
SLEEPY
CREATIVE
Banana OG
Common Usage
DEPRESSED
ANXIETY
INSOMNIA
Banana OG is a 60% Indica dominant cannabis strain with impressive THC percentages. On average, you can expect between 18 to 25% THC from Banana OG. Legendary genetics such as Skunk Haze, Ghost OG, and Banana Kush went into the creation of this fine cannabis strain. The buds are bright green and blanketed in amber-colored trichomes that appear to glow slightly yellow through the luscious coating of frosty trichomes. The buzz is described as being a very relaxing and creative one that ultimately leads to a weed nap. The flavor is described as earthy and spicy with a dank tropical taste. Many people say this is an excellent strain for fighting off anxiety, depression, and the symptoms of stress and insomnia.
FAQ
How much THC is in Banana OG strain?
Answer: This strain contains about 25% THC on average.