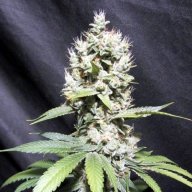 Banana Peel
Hybrid content
Usage & Effects
Banana Peel
Time of use
EVENING
Banana Peel
Typical Effects
RELAXED
HAPPY
CREATIVE
Banana Peel
Common Usage
DEPRESSED
ANXIETY
MIGRAINES
Banana Peel is a 50/50 hybrid variety of cannabis with equal amounts of Indica and Sativa. This impressive hybrid boasts massive levels of THC, averaging 18 to 22%. It was created crossing Pestilence and Banana OG. The buds have an electric like coating of hairs on top of an olive green background wrapped in a sparkly blanket of trichomes. The bud has the aroma of bananas and a taste to match. Some people even say it tastes a little like sweet tea. The buzz is described as a very happy and relaxed one that leaves most people feeling extremely creative. It is said to be a great strain to fight off the symptoms of migraine headaches as well as anxiety, stress, depression, PTSD, and more.
FAQ
How much THC is in Banana Peel strain?
Answer: This strain contains about 20% THC on average.