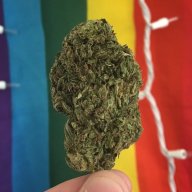 Bedford Glue
Hybrid content
Usage & Effects
Bedford Glue
Time of use
AFTERNOON
Bedford Glue
Typical Effects
RELAXED
SOCIAL
HAPPY
Bedford Glue
Common Usage
A LOSS OF APPETITE
MIGRAINES
PAIN
Bedford Glue is a 50/50 hybrid cannabis strain offering equal amounts of Sativa and Indica. It produces impressive levels of THC that come in around 24% or more on average. This beautiful strain has legendary genetic such as Highwayman and Gorilla Glue #1. The buds are bright green with brilliant orange hairs and a diamond-like coating of sparkling trichomes. The flavor is described as being one of berries and sage with an earthy-sweet finish. The aroma is referred to as skunky and pungent. Many people report this to be a great strain to fight the symptoms of migraine headaches, chronic pain, stress, depression, anxiety, as well as to help increase your appetite. The buzz is said to be a very social one that leaves you feeling relaxed and happy.
FAQ
How much THC is in Bedford Glue strain?
Answer: This strain contains about 24% THC on average.