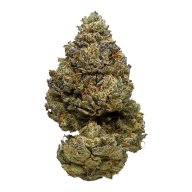 Usage & Effects
Berry OG
Time of use
EVENING
Berry OG
Typical Effects
FOCUSED
RELAXED
SLEEPY
Berry OG
Common Usage
DEPRESSED
A LOSS OF APPETITE
INSOMNIA
Berry OG is a 50/50 hybrid cannabis strain that has equal amounts of Indica and Sativa in it. It was created by combining OG Kush with Hashberry. The end result produced the beautiful cannabis strain known as Berry OG that boasts impressive THC levels averaging 20% or higher with this fire. The nugs are light green in color with an immense trichome coverage and loads of orange and red hairs. They produce a berry-like flavor with a floral finish. The smell from the smoke is considered to be sweet and fruity. A lot of people say this strain helps them fight off depression, stress, anxiety, as well as increase their appetite and help them sleep at night. The buzz is described to be a very relaxing one that leaves you feeling focused and eventually sleepy.
FAQ
How much THC is in Berry OG strain?
Answer: This strain contains about 20% THC on average.