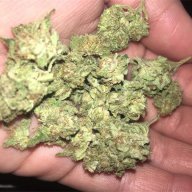 Bettie Page
Hybrid content
Usage & Effects
Bettie Page
Time of use
EVENING
Bettie Page
Typical Effects
FOCUSED
RELAXED
SOCIAL
Bettie Page
Common Usage
DEPRESSED
MIGRAINES
PAIN
Bettie Page is a 50/50 hybrid cannabis strain with a little Indica and a little Sativa. In fact, this lovely lady will rock your world if you give her a chance with impressive THC levels between 18 to 22% or more. The buds are dark green and have bright orange and yellow hairs throughout them. They are wrapped in a beautiful blanket of sparkly trichomes and are very resinous. The buzz is often referred to as being a very relaxing and focused one that leaves a lot of folks feeling very social. This is supposed to be a great strain to help ward away depression as well as fight off migraine headaches and chronic pain. The flavor profile is described as being very sweet and fruity with hints of berry and a diesel finish. The buds smell very earthy and pungent.
FAQ
How much THC is in Bettie Page strain?
Answer: This strain contains about 19% THC on average.