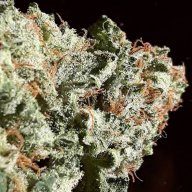 Usage & Effects
Big Bomb
Time of use
EVENING
Big Bomb
Typical Effects
RELAXED
SLEEPY
HAPPY
Big Bomb
Common Usage
DEPRESSED
A LOSS OF APPETITE
ANXIETY
Big Bomb is a 50/50 hybrid variety of cannabis offering consumers the best of both worlds being Indica and Sativa. This lovely lady puts off a delicate balance of THC levels averaging 18 to 22%. Bomb #1 was crossed with Big Bud to create Big Bomb. The buds have a frosty coating of trichomes and are typically very bright green in color with brilliant orange pistols. The flavor is described as being spicy and sour. Consumers often report this to be an excellent cannabis strain to fight off the symptoms of depression, stress, anxiety, loss of appetite, and more. The buzz is described as being a very relaxing and happy one that will leave you feeling hungry and sleepy.
FAQ
How much THC is in Big Bomb strain?
Answer: This strain contains about 18% THC on average.