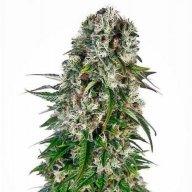 Usage & Effects
Big Bud
Time of use
EVENING
Big Bud
Typical Effects
RELAXED
SLEEPY
DRY EYES
Big Bud
Common Usage
DEPRESSED
A LOSS OF APPETITE
ANXIETY
Big Bud is a legendary cannabis strain loved by growers for its impressive yields and loved by consumers for its beautiful smoking qualities. Big Bud was created by crossing legendary genetics like Northern Lights, Haze, and Afghani. This cannabis strain produces high THC levels too. They average between 20 and 25%. The buds produce different colors ranging from dark green to bright green and have a beautiful coating of trichomes and typically only very few orange hairs. They produce a dank earthy aroma and a flavor profile that is sweet skunky and funky with hints of spice and fruit. The buzz is referred to as being a very relaxing one that leaves you sleepy and sedated feeling with dry eyes. It is said to be a great strain to fight off the symptoms of stress, depression, anxiety, loss of appetite, insomnia, and more.
FAQ
How much THC is in Big Bud strain?
Answer: This strain contains about 20% THC on average.
Where can I buy Big Bud weed strain?