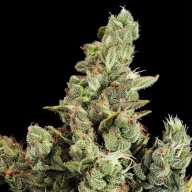 Big Buddha Cheese
THC Content
Big Buddha Cheese
CBD Content
Big Buddha Cheese
Hybrid content
Usage & Effects
Big Buddha Cheese
Time of use
MORNING
Big Buddha Cheese
Typical Effects
RELAXED
HUNGRY
SOCIAL
Big Buddha Cheese
Common Usage
DEPRESSED
A LOSS OF APPETITE
INSOMNIA
Big Buddha Cheese is a cannabis strain with a mysterious genetic origin. It is said to have come from a Skunk #1 clone that was crossed with a very unique Afghani strain. This is considered a hybrid cannabis strain but the amounts of Indica and Sativa are about anyone's guess. The buds are bright green with brilliant red hairs and purple hues throughout them. They produce a pungent skunky aroma with the flavor profile of tropical fruit, berries, and cheese. THC averages about 18%, and this cannabis strain produces a very relaxing and social high that will leave you chilled with a case of the munchies. Many people say this is a great strain to help improve your appetite as well as fight insomnia, depression, stress, anxiety, and more.
FAQ
How much THC is in Big Buddha Cheese strain?
Answer: This strain contains about 18% THC on average.