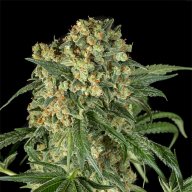 Usage & Effects
Big Kush
Time of use
EVENING
Big Kush
Typical Effects
RELAXED
SLEEPY
SEDATED
Big Kush
Common Usage
DEPRESSED
INSOMNIA
MIGRAINES
Big Kush is a 50/50 hybrid variety of cannabis with equal amounts of Indica and sweet Sativa. Big Kush produces impressive THC percentages averaging between 22 to 27% or more. It was created by crossing OG Kush with Big Skunk. The buds are bright green with dark red hairs and a thick frosty blanket of trichomes. They are very sticky and resinous to the touch, making them difficult to break up by hand. The flavor is described as herbal and spicy with a sweet lemon finish. Many people report this being an excellent strain to fight the symptoms of depression, stress, anxiety, migraine headaches, insomnia, and more. The buzz is referred to as being a very relaxing one that leaves you feeling sleepy and sedated.
FAQ
How much THC is in Big Kush strain?
Answer: This strain contains about 25% THC on average.