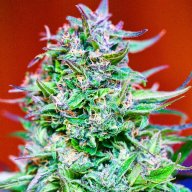 Big Skunk Korean
THC Content
Big Skunk Korean
CBD Content
Big Skunk Korean
Hybrid content
Usage & Effects
Big Skunk Korean
Time of use
EVENING
Big Skunk Korean
Typical Effects
RELAXED
SLEEPY
DRY EYES
Big Skunk Korean
Common Usage
DEPRESSED
A LOSS OF APPETITE
ANXIETY
Big Skunk Korean is a 50/50 hybrid variety of cannabis offering equal amounts of sweet Sativa and irresistible Indica. This hybrid cannabis strain has strong levels of THC, starting around 19% or higher. It was created crossing Skunk #1 with Big Bud. The buds are dark green to moss green in color with tones of purple and lavender throughout them. The flavor is skunky funky and sweet with a hash like finish. The buzz is described as being a very relaxing and sedating one leaving you hungry and sleepy. Many consumers report this being an excellent strain to help increase your appetite as well as fight insomnia and the symptoms of depression, stress, anxiety, and more.
FAQ
How much THC is in Big Skunk Korean strain?
Answer: This strain contains about 19% THC on average.