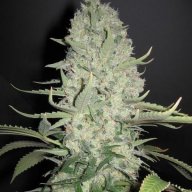 Usage & Effects
Big White
Time of use
AFTERNOON
Big White
Typical Effects
RELAXED
SLEEPY
HAPPY
Big White
Common Usage
DEPRESSED
A LOSS OF APPETITE
INSOMNIA
Big White is a 50/50 hybrid cannabis strain that gives consumers equal amounts of Sativa and Indica. This impressive hybrid has equally impressive THC levels that come in between 20 to 24% or higher. It was created by crossing legendary genetic such as Big Bud and White Widow. The buds are dark to olive green wrapped in red and orange hairs. They appear to sparkle from their thick blanket of frosty white trichomes. The flavor is described as sweet and sugary with hints of maple and skunk. Many consumers say this is a great strain to fight insomnia and improve your appetite as well as ward off the symptoms of depression, stress, and anxiety. The buzz is a very happy and relaxed one that leaves you hungry and sleepy.
FAQ
How much THC is in Big White strain?
Answer: This strain contains about 20% THC on average.