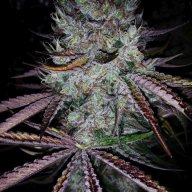 Usage & Effects
Biker Kush
Time of use
EVENING
Biker Kush
Typical Effects
RELAXED
SLEEPY
SOCIAL
Biker Kush
Common Usage
DEPRESSED
A LOSS OF APPETITE
INSOMNIA
Biker Kush is an Indica dominant hybrid strain of cannabis that is thought to have come initially from the soils of Amsterdam. This OG strain is packed full of legendary genetics, including SFV OG, Hell's OG, Lucifer OG, and more. The buds are known for being forest green with a fuzzy layer of amber-colored pistols and a mesmerizing thick coat of trichomes. The aroma of this unique strain of cannabis has often been described as being lemon-scented, and the flavor is often described as being citrusy with hints of spicy herbs. THC comes in at an impressive 25% or higher on average with biker Kush. Medically the strain is said to be efficient at suppressing depression, insomnia, and stress with ease.
FAQ
How much THC is in Biker Kush strain?
Answer: This strain contains about 25% THC on average.