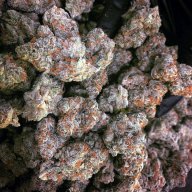 Usage & Effects
Bio Jesus
Time of use
EVENING
Bio Jesus
Typical Effects
RELAXED
SLEEPY
HUNGRY
Bio Jesus
Common Usage
DEPRESSED
INSOMNIA
PAIN
Bio Jesus is a 50/50 hybrid cannabis strain with equal amounts of both Indica and Sativa in it. Bio Jesus is known for having heavy-hitting levels of THC that average between 25 to 30%. This hybrid cannabis strain produces beautiful bright green buds that appear to be covered in fur from an abundance of orange pistils. They practically drip resin from every pore thanks to their diamond-like coating of trichomes. The flavor is described as being very intense with hints of pine and diesel. The impressive levels of THC make this an excellent strain for producing edibles, tinctures, and oils. The buzz is described as a very relaxing and sleepy one that leaves most people feeling extremely hungry. Many consumers report this to be a great strain to fight off the symptoms of chronic pain, insomnia, depression, stress, PTSD, anxiety, and more.
FAQ
How much THC is in Bio Jesus strain?
Answer: This strain contains about 30% THC on average.