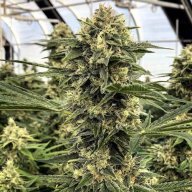 Black Betty
Hybrid content
Usage & Effects
Black Betty
Time of use
EVENING
Black Betty
Typical Effects
FOCUSED
RELAXED
HAPPY
Black Betty
Common Usage
DEPRESSED
ARTHRITIS
MIGRAINES
Black Betty is a 50/50 hybrid cannabis strain that offers both Indica and Sativa for consumers. This beautifully balanced hybrid has impressive levels of THC that average between 20-25%! It also has an impressive average of 4% CBD. This hybrid cannabis strain comes from legendary genetics such as East Coast Sour Diesel and AK-47. The buds are forest to olive green in color and have loads of brilliant orange hairs. They're covered in a thick coating of beautiful trichomes that make them very resinous and sticky to the touch. The flavor is described as sweet and earthy with a skunky, pungent finish. Many people report the buzz as being a very relaxing and happy one that leaves in feeling extremely focused. Black Betty is supposed to be a great strain at helping to fight off the symptoms of depression, stress, anxiety, PTSD, arthritis, migraine headaches, and more.
FAQ
How much THC is in Black Betty strain?
Answer: This strain contains about 26% THC on average.