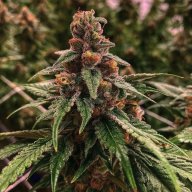 Black Cherry OG
THC Content
Black Cherry OG
CBD Content
Black Cherry OG
Hybrid content
Usage & Effects
Black Cherry OG
Time of use
EVENING
Black Cherry OG
Typical Effects
RELAXED
SLEEPY
HAPPY
Black Cherry OG
Common Usage
ADHD SYMPTOMS
Black Cherry OG is a 50/50 hybrid variety of cannabis with equal amounts of Sativa and Indica. It has legendary genetics from Grand Daddy Purp and OG Kush. The buds average between 18 to 22% THC. They are deep green in color with vivid bright orange hairs and an abundance of sparkly trichomes. The flavor is sweet, with hints of blueberry and spice. The aroma is described as pungent and earthy. Many people report the buzz being a very happy and relaxing one that eventually leaves them feeling sleepy. This is supposed to be a great cannabis strain to help fight anxiety, stress, depression, as well as to increase the appetite.
FAQ
How much THC is in Black Cherry OG strain?
Answer: This strain contains about 18% THC on average.