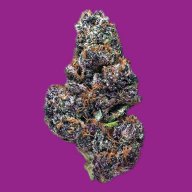 Black Cherry Soda
THC Content
Black Cherry Soda
CBD Content
Black Cherry Soda
Hybrid content
Usage & Effects
Black Cherry Soda
Time of use
EVENING
Black Cherry Soda
Typical Effects
RELAXED
DRY EYES
COTTON MOUTH
Black Cherry Soda
Common Usage
DEPRESSED
A LOSS OF APPETITE
ANXIETY
Black Cherry Soda is a heavy-hitting 50/50 hybrid cannabis strain. This impressive hybrid has extremely high levels of THC ranging between 25 to 30% or higher! The extremely impressive THC levels make this a phenomenal cannabis strain to produce edibles, tinctures, and oils. The buds almost appear to be completely purple without having any signs of green in them. The flavor is described as creamy and sweet, with a very fruity and berry-like aroma that has an earthy finish. Consumers report this strain to be great at helping them with depression, stress, anxiety, chronic pain, as well as helping to increase their appetite. The buzz is described as a very relaxing one that leaves you with dry eyes and cottonmouth.
FAQ
How much THC is in Black Cherry Soda strain?
Answer: This strain contains about 30% THC on average.