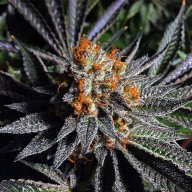 Black Mamba
Indica content
Usage & Effects
Black Mamba
Time of use
EVENING
Black Mamba
Typical Effects
FOCUSED
RELAXED
SEDATED
Black Mamba
Common Usage
DEPRESSED
ANXIETY
MIGRAINES
Black Mamba is a 70% Indica dominant cannabis strain that has heavy-hitting levels of THC. You can expect an average of 18 to 25% THC or better in this fire. Domina and Blue Bubble Juice were utilized in the creation of this exquisite line of cannabis genetics. The buds are beautiful, with a bright green color to them. They put off a sweet floral aroma with hints of grape. When smoked, the flower puts off a very herbal smell while having a sweet palette with the finish of grape juice. A lot of consumers say this is an excellent strain to help with the symptoms of depression, stress, anxiety, migraine headaches, PTSD, and more. The buzz is described as a very relaxed and focused one that ultimately leaves most people feeling rather sedated.
FAQ
How much THC is in Black Mamba strain?
Answer: This strain contains about 25% THC on average.