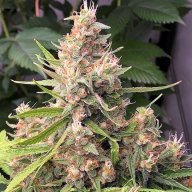 Usage & Effects
Black Tuna
Time of use
EVENING
Black Tuna
Typical Effects
RELAXED
SLEEPY
HUNGRY
Black Tuna
Common Usage
DEPRESSED
A LOSS OF APPETITE
INSOMNIA
Black Tuna is a 50/50 hybrid variety of cannabis. This beautiful hybrid contains equal amounts of both Indica and Sativa in it. You can expect impressive levels of THC that average 20% or higher, making this strain absolute fire. Legendary genetics of Herojuana and Lamb's Bread were utilized to create Black Tuna. The buds from this strain have dark green colors with a frosty covering of trichomes. The smell is described as putrid and funky. The flavor is supposed to have hints of sage and spice. Sometimes the buds are even purple in color. A lot of consumers say this strain helps with insomnia as well as to improve the appetite and fight symptoms of stress, depression, anxiety, and more. The buzz is said to produce a very relaxed and sleepy feeling, one that often gives you a case of the munchies.
FAQ
How much THC is in Black Tuna strain?
Answer: This strain contains about 20% THC on average.