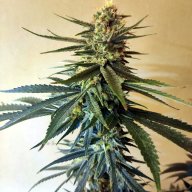 Black Widow
Sativa content
Usage & Effects
Black Widow
Time of use
AFTERNOON
Black Widow
Typical Effects
RELAXED
DRY EYES
COTTON MOUTH
Black Widow
Common Usage
DEPRESSED
A LOSS OF APPETITE
ANXIETY
Black Widow is a 65% Sativa dominant cannabis strain with absolutely insane levels of THC. This beauty produces an average of 28% THC or higher. There's much controversy surrounding this strain. It was originally said that Black Widow was called White Widow and bread by the breeder Shantibaba. Tired of everyone else climbing White Widow as their own, he renamed the original strain Black Widow. The buzz is described as a very relaxing one that leaves you with a case of cotton face and dry eyes. Having hydration and Visine handy is a good idea. A lot of consumers say this strain helps them with depression, anxiety, stress, chronic pain, as well as to increase their appetite.
FAQ
How much THC is in Black Widow strain?
Answer: This strain contains about 28% THC on average.