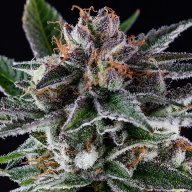 Blackberry Cream
THC Content
Blackberry Cream
CBD Content
Blackberry Cream
Indica content
Usage & Effects
Blackberry Cream
Time of use
EVENING
Blackberry Cream
Typical Effects
RELAXED
SLEEPY
CREATIVE
Blackberry Cream
Common Usage
DEPRESSED
ANXIETY
ARTHRITIS
Blackberry Cream is a 70% Indica dominant cannabis strain. You can expect impressive THC levels averaging 18 to 25% or higher in this fire. Blackberry Kush, along with Cookies and Cream, were used in the creation of this beautiful strain. The buds are dark green with yellowish hairs and a thick resinous blanket of trichomes. They are known to produce a spicy flavor with hints of berry and cream. The aroma from the nugs burning is very earthy. A lot of consumers say the buzz is very relaxing and that it sparks creativity and sleepiness. They also say this is a great strain to fight off the symptoms of arthritis, chronic pain, stress, depression, anxiety, and more.
FAQ
How much THC is in Blackberry Cream strain?
Answer: This strain contains about 25% THC on average.