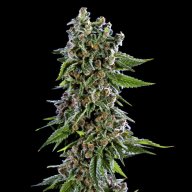 Blackberry Kush
THC Content
Blackberry Kush
CBD Content
Blackberry Kush
Indica content
Usage & Effects
Blackberry Kush
Time of use
EVENING
Blackberry Kush
Typical Effects
SLEEPY
CREATIVE
SEDATED
Blackberry Kush
Common Usage
DEPRESSED
ANXIETY
INSOMNIA
Blackberry Kush is 80% Indica dominant variety of cannabis with heavy-hitting levels of THC that average 20% or more. This beautiful Indica boasts lime green buds with hints of yellow, purple, and black throughout them. The flavor profile has hints of berry and a sweetness that some describe as almost chocolate-like. Many consumers say this is a great strain to help fight off insomnia as well as the symptoms of anxiety, stress, depression, PTSD, and more. The buzz is referred to as being a very relaxing one that leaves you feeling creative before it gets very sleepy and sedating feeling.
FAQ
How much THC is in Blackberry Kush strain?
Answer: This strain contains about 20% THC on average.
Where can I buy Blackberry Kush weed strain?