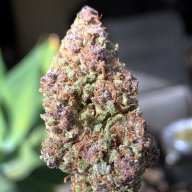 Blackberry Rhino
THC Content
Blackberry Rhino
CBD Content
Blackberry Rhino
Hybrid content
Usage & Effects
Blackberry Rhino
Time of use
AFTERNOON
Blackberry Rhino
Typical Effects
RELAXED
SOCIAL
HAPPY
Blackberry Rhino
Common Usage
DEPRESSED
ARTHRITIS
INSOMNIA
Blackberry Rhino is a hybrid cannabis strain that produces an average 17% THC and 1% CBD. It is a cross of White Rhino and Blackberry. The buds are forest green in color with hues of purple and a thick crystal-like light blanket of trichomes. The aroma is very skunky and floral. The flavor has a profile of berries, fruit, and candy. Many consumers say the strain helps with insomnia as well as the symptoms of stress, depression, anxiety, arthritis, loss of appetite, chronic pain, PTSD, ADHD, and more. The buzz is described as a very relaxing and happy one that will leave you feeling social. Some consumers even say the strain causes couch lock, so it may be better as an afternoon-evening strain if you have things to do.
FAQ
How much THC is in Blackberry Rhino strain?
Answer: This strain contains about 17% THC on average.