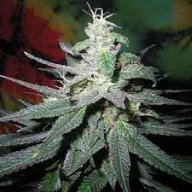 Usage & Effects
Blaze
Time of use
EVENING
Blaze
Typical Effects
SOCIAL
HAPPY
CREATIVE
Blaze
Common Usage
DEPRESSED
ARTHRITIS
MIGRAINES
Blaze is a 100% sweet Sativa dominant strain of cannabis. This sweet Sativa lady has legendary genetics of Haze and Blueberry in her. She produces beautiful buds that are mint green in color wrapped in orange hairs and a mild dusting of sticky white trichomes. The flavor is described as sweet and tangy with a spicy finish. The buzz is a very social and happy one that leaves many people feeling very creative. A lot of consumers report this to be an excellent strain to fight off migraine headaches as well as the symptoms of arthritis, chronic pain, stress, depression, anxiety, and more.
FAQ
How much THC is in Blaze strain?
Answer: This strain contains about 20% THC on average.