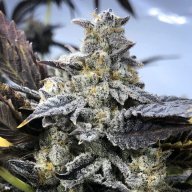 Blissful Wizard
THC Content
Blissful Wizard
CBD Content
Blissful Wizard
Hybrid content
Usage & Effects
Blissful Wizard
Time of use
MORNING
Blissful Wizard
Typical Effects
FOCUSED
RELAXED
SOCIAL
Blissful Wizard
Common Usage
DEPRESSED
ANXIETY
ARTHRITIS
Blissful Wizard is a hybrid variety of cannabis with heavy-hitting levels of THC that fall around 30 to 35% or higher. The heavy-hitting levels of THC make this an excellent strain of cannabis to produce edibles or tinctures. It's said that legendary genetics such as Girl Scout Cookies led to creating this beautiful hybrid strain of cannabis. The nugs are an olive green color with neon orange hairs and an extreme dense coating of sticky, resinous trichomes. The flavor is described as sweet and candy-like with hints of apple and flowers. The buzz is said to be a very focused and relaxing one that will leave you feeling very talkative and social. A lot of consumers report this to be an excellent strain to fight off the symptoms of arthritis, chronic pain, stress, depression, anxiety, PTSD, and more.
FAQ
How much THC is in Blissful Wizard strain?
Answer: This strain contains about 34% THC on average.