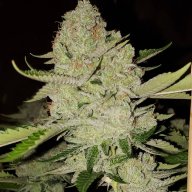 Blizzard Bush
Hybrid content
Usage & Effects
Blizzard Bush
Time of use
AFTERNOON
Blizzard Bush
Typical Effects
FOCUSED
RELAXED
HAPPY
Blizzard Bush
Common Usage
DEPRESSED
ANXIETY
INSOMNIA
Blizzard Bush is a 50/50 hybrid cannabis strain that offers consumers the best of both worlds being equal amounts of Indica and Sativa. This beautiful hybrid also boasts impressive levels of THC that average between 17 to 20% or better. It was said to be created by crossing the legendary Star Dawg with Pura Vida. The buds are light green in color and fluffy with an abundance of orange hairs and sparkly trichomes. They are very sticky and resonance to the touch, making them extremely difficult to break up by hand. The aroma has hints of dirt and pepper, and some say it smells almost a touch like meat that has been cured. Thankfully the flavor is much more pleasing having hints of marshmallow and sweet candy. The buzz is a very relaxing one that leaves many people focused and happy. A lot of consumers say this is a great strain to fight the symptoms of insomnia, depression, stress, PTSD, anxiety, and to help improve the appetite.
FAQ
How much THC is in Blizzard Bush strain?
Answer: This strain contains about 18% THC on average.