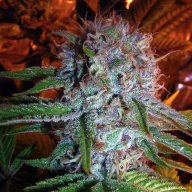 Usage & Effects
Blood Kush is a super rare exotic strain of cannabis that is highly sought-after by connoisseurs and collectors of fine herb globally. The unique combination of purple Shiva Sunk, Miami White, and Black Russian is nearly impossible to find anywhere. If you do make sure you buy all of it, you can. The buds are known to be forest green in color, with an abundance of orange hairs that appear to be neon. They have a thick coating of sticky trichomes that resemble crushed glass. The flavor profile is exotic, having hints of candy with a skunky tart finish. Some of the buds are known to look like a rainbow with hints of pink and purple to match in with the green and orange. Since the genetic lineage regarding Indica and Sativa percentages is not known on this particular strain, it could take you either way. You might want to check off all the chores on your list, or you might end up with a case of couch-lock. If you're ready to roll the dice and can find some of this exotic cannabis, you might want to give it a try.
FAQ
How much THC is in Blood Kush strain?
Answer: This strain contains about 0% THC on average.