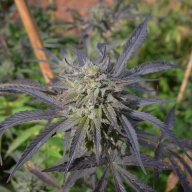 Usage & Effects
Blue Blood
Time of use
AFTERNOON
Blue Blood
Typical Effects
RELAXED
SLEEPY
HAPPY
Blue Blood
Common Usage
DEPRESSED
ANXIETY
ARTHRITIS
Blue Blood is a 50/50 hybrid variety of cannabis offering equal amounts of both Indica and Sativa. This strain boasts impressive levels of THC, averaging 18 to 22%. That's not all; it also boasts impressive levels of CBD that average 10% or better. Blue Blood was created by crossing legendary genetics from OG Kush and Blueberry together. The buds are forest green in color with lots of orange hairs and an abundance of thick sticky trichomes. They're even known to have hints of purple throughout them. The flavor is described as tangy and earthy with a sweet finish. The buzz is a very happy and relaxing one that leaves many people ready for bed. A lot of consumers say this strain helps them with depression, stress, anxiety, arthritis, chronic pain, and more.
FAQ
How much THC is in Blue Blood strain?
Answer: This strain contains about 20% THC on average.