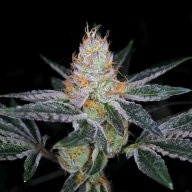 Blue Cookies
Indica content
Usage & Effects
Blue Cookies
Time of use
EVENING
Blue Cookies
Typical Effects
RELAXED
SLEEPY
DRY EYES
Blue Cookies
Common Usage
DEPRESSED
TRAUMATIC STRESS
ANXIETY
Blue Cookies is a 60% Indica dominant cannabis strain. This beautiful hybrid Indica comes from Blueberry and Girl Scout Cookies. THC comes in at an extremely impressive range averaging between 20% upwards of 25% or higher. The buds are neon green in color with hues of purple and blue throughout them. They have an immense coverage of trichomes, making them very sticky and resinous to the touch. The flavor profile is described as having hints of skunk and cherry. The aroma is very earthy and pungent. Many consumers report this to be an excellent strain in helping fight the symptoms of stress, depression, anxiety, PTSD, and more. The buzz is a very relaxing one that will leave most people feeling sleepy and is known to cause dry eyes.
FAQ
How much THC is in Blue Cookies strain?
Answer: This strain contains about 24% THC on average.