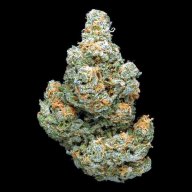 Usage & Effects
Blue Dream
Time of use
AFTERNOON
Blue Dream
Typical Effects
RELAXED
COTTON MOUTH
CREATIVE
Blue Dream
Common Usage
DEPRESSED
A LOSS OF APPETITE
ANXIETY
Blue Dream is a 50/50 hybrid cannabis strain with an equal balance of both Indica and Sativa. This hybrid offers consumers impressive THC levels, averaging 20 to 27% as well as a boost of 2% CBD. Blue Dream was created by crossing legendary classics Haze and Blueberry together. The buds are forest green in color and have signature blue and yellow hairs wrapped in a blanket of sparkly trichomes. The flavor profile is described as sweet with hints of blueberry, and the smoke has an earthy pungent aroma. Consumers say this is a great strain to fight off anxiety, increase your appetite, as well as help with the symptoms of stress, depression, arthritis, chronic pain, and more. The buzz is a very relaxing one that helps with creativity. It's also known to cause cottonmouth, so be sure to have hydration on hand.
FAQ
How much THC is in Blue Dream strain?
Answer: This strain contains about 26% THC on average.