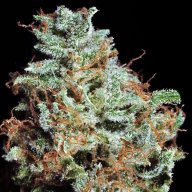 Blue Hawaiian
Hybrid content
Usage & Effects
Blue Hawaiian
Time of use
MORNING
Blue Hawaiian
Typical Effects
FOCUSED
DRY EYES
COTTON MOUTH
Blue Hawaiian
Common Usage
DEPRESSED
A LOSS OF APPETITE
ANXIETY
Blue Hawaiian is a 50/50 hybrid cannabis strain with equal amounts of both Indica and Sativa in it. Blue Hawaiian averages around 20 to 24% THC or more. This hybrid cannabis strain came to be by crossing a Hawaiian Sativa landrace with the legendary Blueberry. The buds are lime green in color with neon orange hairs and a thick coating of trichomes. They're very sticky and resinous to the touch, making them very difficult to break up by hand. They almost require a grinder or scissors. The flavor profile is described as very sweet, with hints of blueberry and an earthy finish. The nugs are also known to have hints of blue and purple throughout them, but not always. Consumers report the buzz as being a very focused one that leads to cottonmouth and dry eyes. A lot of people also say this is a great strain to help improve your appetite as well as fight off the symptoms of stress, anxiety, depression, chronic pain, and more.
FAQ
How much THC is in Blue Hawaiian strain?
Answer: This strain contains about 24% THC on average.