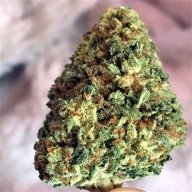 Blue Jay Way
Hybrid content
Usage & Effects
Blue Jay Way
Time of use
AFTERNOON
Blue Jay Way
Typical Effects
FOCUSED
RELAXED
SEDATED
Blue Jay Way
Common Usage
DEPRESSED
ANXIETY
INSOMNIA
Blue Jay Way is a 50/50 hybrid cannabis strain providing consumers beautiful equal amounts of Indica and Sativa. This strain is a unique one having higher levels of THC than CBD. They average two to one. Typically you can expect 8% THC while receiving 16% CBD from Blue Jay Way. The buds are bright green in color with beautiful yellow hairs and an abundance of trichomes. The flavor is described as sweet and fruity with hints of blueberry and cream. The smoke has a very earthy pungent aroma with a skunky smell in the air. Many consumers report this buzz to be a very relaxing and focused one that leaves them feeling sleepy and sedated. They say this strain is phenomenal at helping with insomnia as well as symptoms of stress, anxiety, depression, chronic pain, and more.
FAQ
How much THC is in Blue Jay Way strain?
Answer: This strain contains about 8% THC on average.