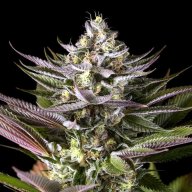 Usage & Effects
Blue Kush
Time of use
EVENING
Blue Kush
Typical Effects
RELAXED
SLEEPY
DRY EYES
Blue Kush
Common Usage
DEPRESSED
A LOSS OF APPETITE
ANXIETY
Blue Kush is a 50/50 hybrid cannabis strain with equal amounts of both Indica and Sativa in it. This beautifully balanced hybrid, boasts impressive levels of THC ranging between 18 to 22%. It was created crossing Blueberry and OG Kush. The nugs on this hybrid strain of cannabis are absolutely beautiful. They are typically bright green in color and even sometimes a mossy green tint with yellow hairs, and a crushed diamond-like coating of beautiful trichomes. The intense trichome coverage makes them extremely sticky. The buzz is described as a very relaxing and sleepy one that causes dry eyes. The flavor profile is very earthy, with sweet hints of blueberry and spice. Many people say this strain helps improve their appetite as well as fight off the symptoms of anxiety, stress, depression, chronic pain, and more.
FAQ
How much THC is in Blue Kush strain?
Answer: This strain contains about 18% THC on average.