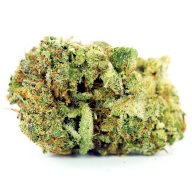 Usage & Effects
Blue Magic
Time of use
MORNING
Blue Magic
Typical Effects
FOCUSED
RELAXED
CREATIVE
Blue Magic
Common Usage
DEPRESSED
ANXIETY
MIGRAINES
Blue Magic is a 50/50 hybrid cannabis strain containing both Indica and Sativa. The equal balance between these two produces impressive THC levels averaging 23% or more. It said that Blue Dream is one of the legendary genetics utilized in this cannabis strain. The buds are dark green in color with pink and red hairs blanketed in a frosty coating of trichomes. The flavor is described as sweet, having hints of blueberry and spice. The smoke smells very earthy and tends to leave a skunky finish in the air. The buzz is described as being a very focused and relaxed one that helps with creativity. Many people report this strain helping fight off migraine headaches as well as the symptoms of anxiety, depression, stress, and more.
FAQ
How much THC is in Blue Magic strain?
Answer: This strain contains about 23% THC on average.