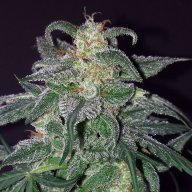 Blue Monster
Indica content
Usage & Effects
Blue Monster
Time of use
EVENING
Blue Monster
Typical Effects
RELAXED
CREATIVE
SEDATED
Blue Monster
Common Usage
DEPRESSED
ANXIETY
INSOMNIA
Blue Monster is an 80% Indica dominant hybrid cannabis strain. This beautiful variety of Indica is an absolute monster with THC levels ranging between 20 to 25% or higher. Northern Lights was crossed with a Mexican landrace along with G13 and some Blueberry to create this monster. The buds range from light to dark green and are known to have deep purple and blue hues throughout them. The thick blanket of trichomes makes these buds extremely sticky and resinous to the touch. The flavor is sweet and skunky with a spicy finish. Many consumers say this strain is great at helping with insomnia as well as the symptoms of stress, depression, PTSD, anxiety, chronic pain, and more. The buzz is described as a very relaxing and creative one that eventually leaves you feeling very sedated.
FAQ
How much THC is in Blue Monster strain?
Answer: This strain contains about 23% THC on average.