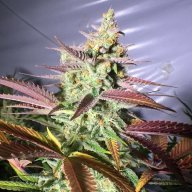 Blue Nightmare
THC Content
Blue Nightmare
CBD Content
Blue Nightmare
Hybrid content
Usage & Effects
Blue Nightmare
Time of use
EVENING
Blue Nightmare
Typical Effects
FOCUSED
RELAXED
CREATIVE
Blue Nightmare
Common Usage
DEPRESSED
A LOSS OF APPETITE
ANXIETY
Blue Nightmare is a 70% Indica dominant hybrid cannabis strain. It was created by crossing Tahoe OG with Blue Dream. The average THC level comes in around 19 to 21% or higher. The buds are pale green in color with neon orange hairs blanketed in a sugary coating of sweet, succulent trichomes. The intense coating of trichomes makes the buds extremely sticky to the touch and difficult to break up by hand. The flavor is described as having hints of spice and blueberry. Many consumers say this is an excellent strain of cannabis to help improve the appetite and fight off the symptoms of stress, depression, anxiety, PTSD, ADHD, chronic pain, arthritis, and more. The buzz is described as a very relaxing and focused one that helps many people with creativity.
FAQ
How much THC is in Blue Nightmare strain?
Answer: This strain contains about 19% THC on average.