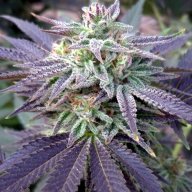 Usage & Effects
Blue Ox
Time of use
EVENING
Blue Ox
Typical Effects
RELAXED
SLEEPY
HUNGRY
Blue Ox
Common Usage
DEPRESSED
A LOSS OF APPETITE
INSOMNIA
Blue Ox is a 70% Indica dominant cannabis strain. Blue Ox produces massive levels of THC, averaging 16 to 22% or better. It was created by crossing The Ox with Blueberry. The buds are bright green with hues of blue and an abundance of red hairs. They are blanketed in a fresh snow-like coating of sparkly sticky trichomes. The flavor profile is exquisite with hints of spice and chocolate and a coffee finish. The buds themselves put off a spicy, earthy smell with hints of blueberry. Many consumers say this is a great strain to help improve the appetite and fight insomnia as well as the symptoms of depression, stress, anxiety, arthritis, chronic pain, and more. The buzz is described as a very relaxing and sleepy one that leaves people feeling hungry.
FAQ
How much THC is in Blue Ox strain?
Answer: This strain contains about 16% THC on average.